Alnus glutinosa / Common Alder Trees For Sale
Tree Names – Alnus glutinosa, Common Alder Tree, Common Alder, Aar, Aller, Black Alder, European Alder
Tree Family – Betulaceae
Biological Origin – Alnus are vigorous deciduous trees and large shrubs with rounded leaves and often conspicuous catkins in winter
Details – A. glutinosa is a deciduous tree to 25m, broadly conical in habit when young, with grey-purple buds and young catkins conspicuous in winter, with rounded bright green leaves.
Plant Origin – Europe to North Africa
Characteristics – Dediduous
Colour Description – Green Foliage, brown flower in spring and brown fruit in autumn
Sunlight – Full Sun
Exposure – Exposed or Sheltered
Soil – Loam, Chalk, Clay. Moist and Well Drained & Poorly Drained
Size – Ultimate Height: 12 Metres
           Spread: 4 – 8 Metres
           Time to Reach Ultimate Height 10 – 20 Years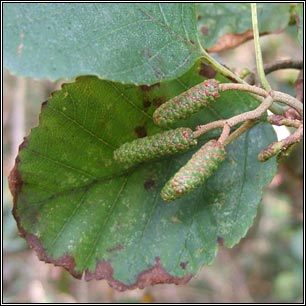 Would you like advice on Alnus Glutinosa/ Common Alder Trees? Contact us today for further help and advice!